Beet the Bulge
Source: https://www.womansday.com/
You can't get enough of this smoothie. Our nutritionist, Joan, says "I'm loving the triple benefits of this one: the delicious flavor, the super load of antioxidants, and the stunning color." The recipe makes two, so enjoy both yourself or share it with a loved one.
INGREDIENTS
1/2 cup almond milk
1/2 cup plain low-fat yogurt
1 tsp honey
1 cup mixed frozen berries
1 cup freshly cooked beets
3 to 5 ice cubes
Blueberry Quick Smoothie
Source: https://cookieandkate.com/
These blueberry smoothies are super simple to make and will actually keep you satisfied for hours, since it offers almost 10 grams of protein and fiber per serving. Whip them up for breakfast, or any time you're craving ice cream—they're that good.
INGREDIENTS AND BENEFITS
Frozen blueberries offer tons of antioxidants and gorgeous purply-blue color. Buy wild/organic blueberries for maximum nutrients.
Frozen bananas make this smoothie creamy and naturally sweet. This smoothie is nothing without the bananas!
Almond butter offers extra creaminess, plus protein, fiber and heart-healthy monounsaturated fat.
Vanilla almond milk makes this smoothie as creamy as possible. Buy unsweetened to avoid refined sugar. My favorite brands are Malk or Califia Farms. Or use water, for a slightly less luxurious texture.
For a sweeter smoothie, you can add maple syrup, to taste. I usually don't need it, since the bananas are sweet enough.
For extra sticking power, you can add up to 1/4 cup old-fashioned oats and/or up to 2 tablespoons flax seed. The flax seed makes leftover smoothies almost pudding-like in texture—I'm into it!
Matcha do about Metabolism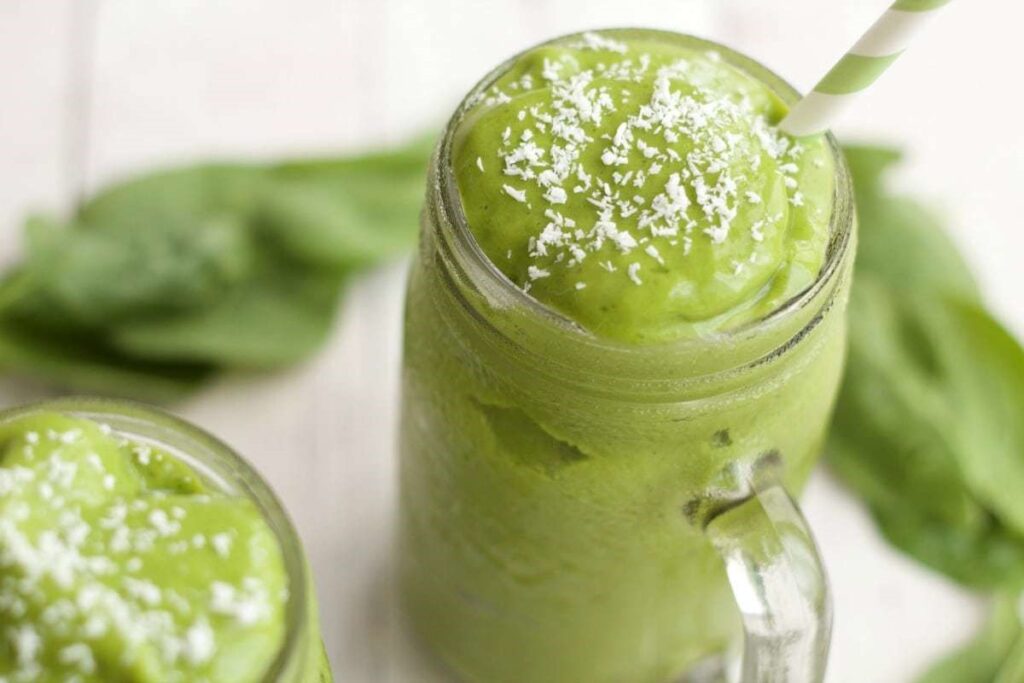 Source: https://lovingitvegan.com/
Easy 5-Ingredient matcha green tea smoothie. This green smoothie is fruit and veggie packed, cold, double-thick, smooth, creamy and utterly delicious!
INGREDIENTS
1 Large Mango (fresh or frozen)
2 Frozen Bananas
2 Large Handfuls Baby Spinach
2 tsp Matcha Green Tea Powder
1 cup (240ml) Light Coconut Milk
Triple Berry Blast
Source: https://www.delish.com/
INGREDIENTS
1 banana
1 c. frozen strawberries
1 c. frozen blackberries, plus more for garnish (optional)
1 c. frozen raspberries
1 1/4 c. almond milk
1/2 c. Greek yogurt
DIRECTIONS
In a blender, combine all ingredients and blend until smooth.
Divide between 2 cups and top with blackberries, if desired.
Pumpkin Banana
Source: https://www.womansday.com/
This fall-flavored drink is filled with "beta-carotene, calcium, fiber, magnesium, and potassium."
INGREDIENTS
1/2 cup nonfat vanilla yogurt
1/2 cup almond milk
1/2 cup pumpkin puree
1-1/2 tsp maple syrup
1 ripe banana
1/4 tsp ground cinnamon
3 to 5 ice cubes
Cinnamon Strawberry Smoothie
Source: https://www.mccormick.com/
INGREDIENTS
1 small ripe banana
1 cup frozen strawberries
1 container (6 ounces) vanilla nonfat Greek-style yogurt
1/2 cup orange juice
1 tablespoon honey
1/2 teaspoon Ground Cinnamon
Raspberry Smoothie Bowl
Source: https://www.womansday.com/
INGREDIENTS
1 c. frozen raspberries
1/2 peeled, cooked beet
6 tbsp.
unsweetened almond milk
Assorted berries, chopped roasted almonds, granola, for serving
DIRECTIONS
In a blender, puree raspberries, beet, and almond milk until smooth. Transfer to a bowl and top with berries, almonds, and granola if desired.
Mango Chia Seed
Source: https://beamingbaker.com/
BENEFITS
Vegan, gluten free, dairy free
Super easy to make
Chockfull of the good stuff: mangoes, bananas and almond milk
Filling thanks to these lovely chia seeds
Refreshing and cool
INGREDIENTS
2 tablespoons chia seeds
1 ½ cups unsweetened almond milk, divided
2 medium bananas, sliced and frozen
2 cups frozen mango chunks
DIRECTIONS
In a small bowl, add chia seeds and ½ cup of almond milk. Give it a good whisk, until thoroughly combined. Cover and let set in the fridge for about 10 minutes.
Add bananas and the remaining 1 cup of almond milk to a blender. Blend until smooth, scraping down the sides of the blender as need.
Add mangoes, blending until smooth.
Take the chia seed mixture out of the fridge—it should have thickened to a gel-like consistency. Give it another good whisk. Using a rubber spatula or spoon, scrape the chia seed mixture out of the cup and into the blender. Blend until smooth.
Pour into cups, and enjoy immediately!
Pumpkin & Fig
Source: https://healthyishappetite.com/
Ingredients
1/2 medium frozen banana
2 fresh figs
1/3 cup canned pumpkin (not pumpkin pie mix)
1 Tbsp almond butter
1/2 tsp ground cinnamon
1 cup (unsweetened) soy milk
2–3 ice cubes
1/2 Tbsp hemp hearts
DIRECTIONS
Add all ingredients except hemp hearts to a blender and and blend on high until smooth and creamy.
Pour into a glass, then top with hemp hearts and additional cinnamon. Serve immediately.
Chocolate-Cherry Overwhelm
Source: https://annessard.com/
Oh…So heavenly…
INGREDIENTS
1 cup unsweetened vanilla almond milk
1/4 frozen banana
1/2 cup frozen unsweetened dark sweet cherries
2 teaspoons cocoa powder
1/4 teaspoon almond extract
1 scoop your favorite chocolate protein powder
2 teaspoons chia seeds
1 teaspoon dark chocolate chunks
DIRECTIONS
Blend the first 6 ingredients together until smooth and creamy.
Add chia and dark chocolate, pulsing just a few times to keep the crunch. Pour, slurp and receive delicious energy!